Belmont International English website last updated February 11, 2016.
No class today
Today, Thursday, February 11, Metro Nashville-Davidson County schools are closed because of the snow, and so we are closed, too. Get a good book (in English, of course) and stay warm. See you Tuesday the 16.
Welcome to our website

This site has been created as a medium for teachers and adult students of English
for Speakers of Other Languages to use to share experiences. It is designed primarily
for intermediate to advanced students and their teachers.
Belmont International English is an advanced class with emphasis on oral communication. You
may register online for this class. Click on "Registration" in the upper left of this page and fill
out the form on the registration page.
Belmont International English is only one of the English classes supported by the generosity of
the Belmont United Methodist Church. There are also English classes for beginner and intermediate
English learners at the church. For these classes in the Belmont ESL program, registration must be
in person. Right now, these classes are full, and I don't know when the next registration will take place,
but as soon as the decision is made, I will post the information here. For more information on these
classes, click on the link below.
Click here to go to the Belmont ESL web page.
Belmont welcomes Michael Cheng
Michael Cheng, a graduate student in Peabody College of Education of Vanderbilt University, will be associate teacher in our class during the spring semester. Michael will bring some new ideas to our teaching methods.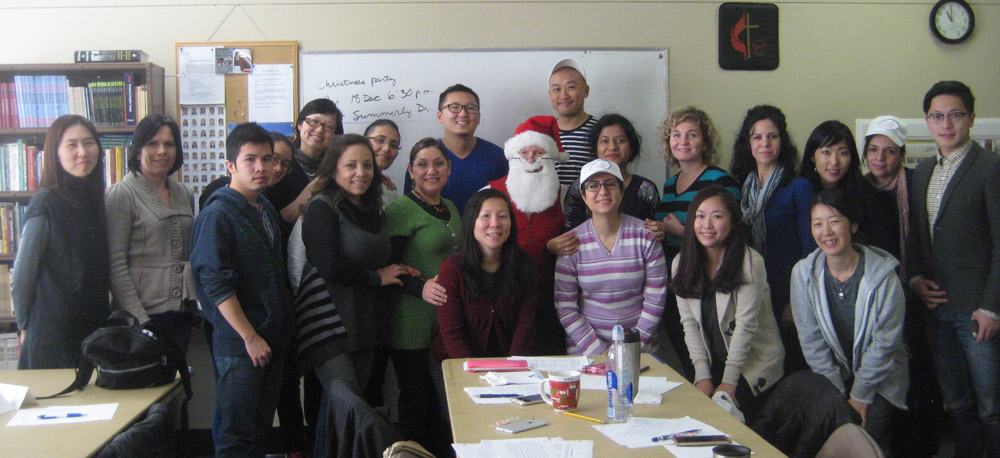 Santa Claus came to visit our class on the last day of the fall semester. I was able to tell him truthfully that all the students had been good little boys and girls. Azadeh and Ursula and Pan were wearing white hats because they had done such a good job turning in their homework regularly.

We work hard, but we have fun, too. Language is an integral part of life, and we enjoy working together, playing together and talking together .

Various topics are discussed on the pages of this site. To find the topic you are

interested in and to download material, click on the "Topics" heading in the navigation

bar in the upper left corner of this page.