Belmont International English website last updated November 18, 2015.
Welcome to our web site!
This site has been created as a medium for teachers and adult students of English
for Speakers of Other Languages to use to share experiences. It is designed primarily for intermediate to advanced students and their teachers.
Belmont International English, an advanced class with emphasis on oral communication,
is only one of the English classes supported by the generosity of the Belmont United
Methodist Church. There are also English classes for beginner and intermediate English
learners at the church. For more information on these classes, click on the link below.
Click here to go to the Belmont ESL web page.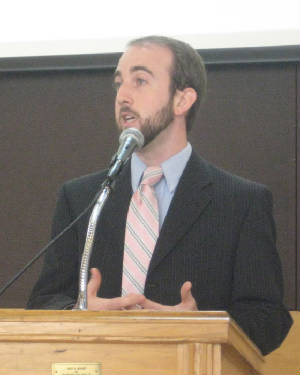 Adam Kelchner, Pastor of Mission and Outreach at Belmont United Methodist Church, welcomes our new students. In the past,
our school has been administered by Metro Nashville Public Schools, by Nashville State Community College, and by Tennessee
Technology Center at Nashville. Now we are very happy to be an integral part of the ministry of Belmont United Methodist Church.
We are very grateful to the members of the BUMC for their generosity in hosting our school.
Our wonderful class for the fall term. We have twenty different countries represented. What a wonderful group of people!
Also shown are our invaluable community volunteers. In the front row are Mary Kaye Jordan, Sam Purushotham, Joyce Eyler,
Kay Herring, Kendal Herring, and Frank Jones.
We work hard, but we have fun, too. Language is an integral part of life, and we enjoy working together, playing together and talking together .
Various topics are discussed on the pages of this site. To find the topic you are
interested in and to download material, click on the "Topics" heading in the navigation
bar in the upper left corner of this page.