Go to the Nashville Students page and check the new Book Club notice.
Belmont International English website last updated July 14, 2016.
Welcome to our website

This site has been created as a medium for teachers and adult students of English
for Speakers of Other Languages to use to share experiences. It is designed primarily
for intermediate to advanced students and their teachers.
Belmont International English is a class for moderately advanced to advanced students. We emphasize oral communication, but we also cover grammar and American civilization. To register on line, click on the registration tab on the left of this page and fill out the form on the registration page. The first day of class for the fall semester, 2016 will be Tuesday, September 13.
Belmont International English is only one of the English classes supported by the generosity of
the Belmont United Methodist Church. There are also English classes for beginner and intermediate
English learners at the church. For these classes in the Belmont ESL program, registration must be
in person.
For more information on these classes, click on the link below.
Click here to go to the Belmont ESL web page.
Fall Semester
You may register for the fall semester at Belmont International English (BIE) at any time. Go to the Registration tab on this page, and on the registration page, fill out the form and submit it. I will send you detailed information when I get your registration. There may be some delay if I am out of town on vacation. If you register on line, no other registration is needed. Simply come to the first class in room 203 on Tuesday, September 13. Class begins promptly at 9 a.m. Come a little early the first day.
BIE is for moderately advanced to advanced students. If you are not sure which class will be best for you, I suggest that you register with Belmont ESL. You must do this in person. Registration will take place September 6, 7, and 8, from 9 a.m. to 11 a.m. in the Community Center of Belmont United Methodist Church, 2007 Acklen Ave, in Hillsboro Village. The Community center is a separate building west of the main church building. If you find BIE too difficult, you may change to a lower level class in Belmont ESL. If you find your class too easy for you, you may transfer to BIE. The teachers work be closely together, and we want you to be in the class where you learn the most.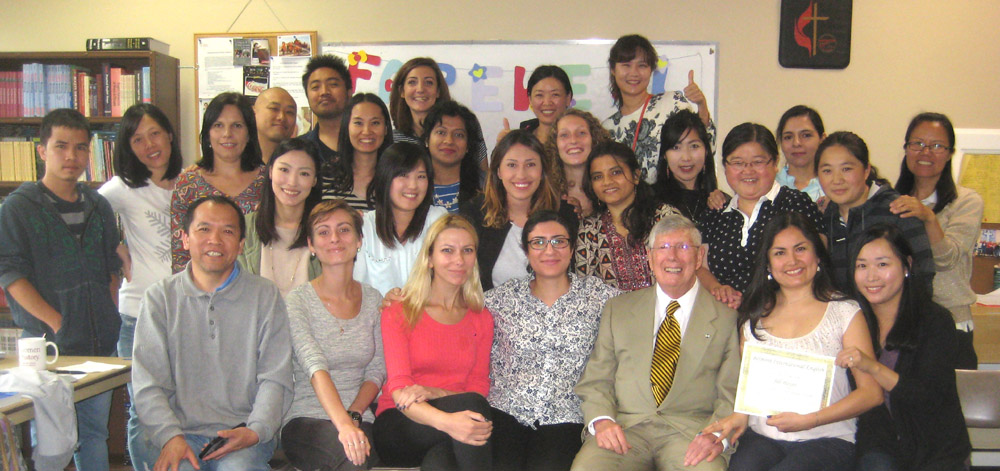 On our last full day of instruction for the semester, Jill suggested that we take a group picture. It is a bittersweet occasion for me. I like vacations, and I like to trravel, but I will miss my friends from all over the world.
The class had a sendoff picnic for Michael Cheng, who has been our associate teacher for this semester.
Sophia presented the Sendoff cake.
Michael seems to be a magnet for pretty girls
Richard is taking a "selfie"of the group
We work hard, but we have fun, too. Language is an integral part of life, and we enjoy working together, playing together and talking together .
Various topics are discussed on the pages of this site. To find the topic you are
interested in and to download material, click on the "Topics" heading in the navigation
bar in the upper left corner of this page.